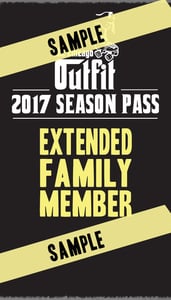 $

75.00
What do you get with your 2017 Extended Family Season Pass?
Attendance to all of The Chicago Outfit's 2017 Home season bouts: April 22, May 20, June 17, and July 22
1 $20 Merchandise Voucher!
2 free drink tickets per Home season bout!
Early Entrance! Extended Family Season Pass holders will be allowed to enter The Windy City Fieldhouse 30 minutes before the general public!
Purchase your 2017 Extended Family Season Pass now, and pick it up, along with your $20 merchandise voucher and other goodies at The Windy City Fieldhouse (2367 West Logan Boulevard, Chicago, IL) the day of our next game: April 22nd, 2017!
NOTE: Pass sales will be temporarily paused from 2pm on bout day til the next morning to ensure that they can be processed.
(Tax Included in Price)
Individual Tickets for 2017 bouts can be found through Eventbrite.com, or on our website: http://www.chicagooutfitrollerderby.com